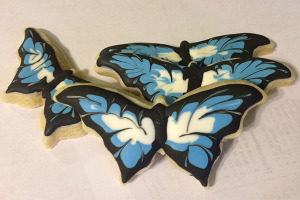 Sugar cookies! Everyone loves a good sugar cookie. These are soft, melt-in-your-mouth, sweet cookie goodness. This recipe does not need to be refrigerated or anything. Super simple. The key is to slightly under bake these babies so they don't get hard and crunchy.
Ingredients
Cookies
3 C. unbleached, all-purpose flour
1.5 tsp. baking powder
1/2 tsp. salt
1 egg
2 sticks unsalted butter
1.5 tsp. vanilla
1 C. sugar
Milk Icing
2 C. powdered sugar, sifted
2 Tbls. meringue powder
2 tsp. clear vanilla or almond or flavor of your choice
1/8 tsp. salt
4 Tbls. milk
any color food coloring
Instructions
Cookies
Preheat oven to 350°
Mix flour, baking powder and salt together in a medium bowl and set aside.
Cream sugar and butter together until fluffy (about 10 min)
Add eggs and vanilla and mix very well.
Add dry ingredients, mix well.
Cover dough with damp towel and allow to rest for 5 minutes.
Roll out dough to ¼" thick, cut shapes, place on parchment lined sheets.
Bake 8 minutes. Time varies depending on size of cookie. You want the cookies to be slightly under baked. They should still look slightly moist on top.
Allow cookies to continue baking and firm up on cookie sheet for 10 minutes before moving to wire rack to finish cooling.
Icing
Mix powdered sugar, salt and meringue powder in a medium bowl.
Gradually mix in flavoring and milk. Mix until well blended and very smooth.
Divide into bowls and add coloring of your choice.
This Icing is extremely runny. You are going to need to pipe it on. First, do an outline and let set then go back and fill in the rest.