When you find amazing women who are brave, strong and determined… you celebrate the moment!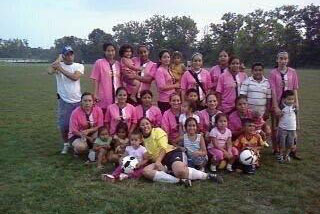 Success should be celebrated twice!
Meet the A.S.L.A. team of mothers who have taken on learning, playing and winning at Soccer. These women are: Latinas, Mothers, Friends, Sister, Mentors, Workers, and so much more. I chatted with Erika Gonzalez about the group and was completely inspired by their determination. They have been playing together about 10 years. Joining an American league, they learned the game. Erika said: "We lost up to 19-1, but we never gave up and on the third year we won the championship!" The beauty of this group is that is not only a team, but a family. They have grown together and taught their children the value of physical balance, and emotional balance. I met Erika Gonzalez through Proyecto Mariposas. Our mission is to bring together daughters and mother to build relationships. Erika is a great example of this mission!
Cuando cononces mujeres extraordinarias, valientes, fuertes, determinadas… las celebras! Conoce el grupo de madres que no solo juegan, pero han sido campeonas de futbol! El grupo de liga A.S.L.A. de mujeres decidieron comenzar, aprender, jugar y ganar en el juego. Como familia tomaron una posición activa en el desarrollo de los niños y de ellas mismas. Estas mujeres son: latinas, Madres, Amigas, Hermanas, Mentoras, Trabajadoras y mucho mas. Hable con Erika Gonzalez acerca del grupo y quede inspirada por su determinación. Llevan jugando cerca de 10 años. Erika comento: "En realidad ninguna de nosotras sabíamos jugar soccer y perdíamos hasta 19-1 pero no nos desanimamos y para el tercer año fuimos campeonas y somos el único equipo hispano compitiendo!" La belleza de este grupo es que no son solamente un equipo, pero son una familia. Han crecido juntos y le han enseñado a sus hijos el valor de un abalance físico y emocional a través del juego. Conocí a Erika a través del Proyecto Mariposas donde nuestra misión es traer madres e hijas Latinas para fomentar la relación de ambas a traves de nuestro continuo desarrollo. Erika y el equipo es un gran ejemplo de esta misión.
What advice would you give mothers/girls?
"We, as mothers are the example for our girls. They watch us and imitate us. Things not always happen the way we want but if you put effort, work hard and enjoy what you are doing you can be a change agent. Success should be celebrated twice: first when you dream it and second when they become a reality. We need to teach our girls to dream big!"
¿Que consejo le da a las madres/niñas?

"Las madres somos el ejemplo de nuestras hijas y ellas aprenden e imitan a uno, no siempre las cosas salen a nuestro favor pero si luchas y trabajas sin dejar de disfrutar lo que haces puedes hacer el cambio. Los logros se viven dos veces en la vida primero cuando los sueñas o imaginas y la segunda cuando los haces realidad"
We celebrate your beautiful and inspiring story. Thank you for being part of our group and for demonstrating strength, love, courage, authenticity and determination.
Celebramos su historia que inspira y que es bella. ¡Gracias por ser parte de nuestro grupo y por demonstrar: fortaleza, amor, valentía, autenticidad y determinación!
Team/Equipo: Lara Sayda, Cristina Torres, Irais Rivas, Silva Elaine, Lidia Flores, Sabrina Colon, Jeanette Lopez, Kity, Cory y Katy.
#bravestrong
#mariposascolumbus